Cecily and Alexis discuss the premiere episode of His Dark Materials. 
Surprise!  Cecily and Alexis (pin-y) will be covering HBO's latest His Dark Materials starting Nov. 4, with full episode coverage posted the Wednesday after an episode airs.
In preparation, they have released coverage of the 2007 movie, The Golden Compass.  This movie was a fun romp that is different from the books and confusing during most points, but nonetheless, a fun jumping off point for starting coverage of His Dark Materials.  Please enjoy this episode, and join us again in November for the series premiere!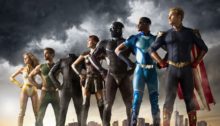 SDCC came and went like the multi-billion dollar enterprise that it is, flooding our humble tubes with trailer upon trailer of new and returning television series, and we're here to talk about them ALL! Then we discuss the new Amazon Prime Video series that tugs on Superman's cape; The Boys. Finally, we say a fond adios to Los Espookys. Can't wait to see what spooks you get up to next season!